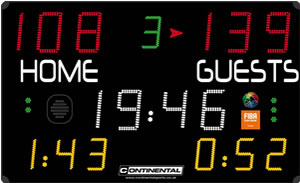 We offer a comprehensive range of mutlti-sports electronic scoreboards.
The range spans ECO, COMPACT and PRO models with standard multi-sports scoring plus enhancements and upgrades for specific sports such as penalty timers for handball, individual player fouls and player names for basketball, fixed or programmable team names and various other upgrades that can change the overall dimensions of the scoreboard.
The majority of the multi-sports electronic scoreboards that we supply and install are of two popular types - "BUDGET" and "STANDARD".
These scoreboards require one 13amp single phase power supply. Either a 3-pin plug socket at high level adjacent to the board enabling our installers to plug in the board during installation, or a fused spur adjacent to the board which requires the customer to provide an electrician to terminate the connnection.
These scoreboards do NOT require a data connection as they operate from a rechargeable radio frequency (RF) control console.
The usual location for scoreboards is close to the centre of the hall on a side wall, taking account of any central division net by positioning the scoreboard to one side of centre if there is divider curtain. Ideally the scoreboard is located on the side wall opposite the entrance door to enable people wishing to enter the hall to see the game time elapsed so they can enter safely on completion of the match.
Electronic scoreboards are typically mounted with the underside 4.5m to 5.5m above finished floor level. If there is no solid wall to fix to then timber patressing can be provided (by others) onto which we can mount the board. If there is a steel column in a suitable location we can provide steel support bracketry (potentially at additional cost).
We have provided patressing / loading & fixing and electrical requirements on the data sheets below for our most popular scoreboards:
"BUDGET" model - ECO800 - Details
"STANDARD" model - ECO3000C - Details
"LARGE" model - COMPACT7000 - Details
For any other model of scoreboard please contact us for patressing, power and fixing information.