Trampoline Parks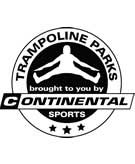 Continental Sports is the largest UK manufacturer and installer of trampoline parks. From a standing start some three years ago, we have installed over 45 parks throughout the UK, and more recently in France, Spain, Luxembourg, Saudi Arabia and Pakistan with many more at the design and manufacturing stages.
Continental has been at the forefront of the development of trampoline parks and their safety since their introduction in the UK - our Managing Director is Vice Chairman of the UK Sub-Committee of the IATP (the International Association of Trampoline Parks) and represented manufacturers on the BSi Steering Group that wrote the recently published British Standard for trampoline parks - PAS5000:2017
At Continental we have used our huge experience of manufacture and installation of gymnastics and trampolining equipment to develop a modular system for trampoline park installation.
The video to the right shows an amazing video of SpeKtrum having fun around a recent trampoline park installation by Continental at Orbital, Luton. It shows the main park, performance trampolines, walk-the-wall trampolines, gymnastics sprung tricking floor, Ninja, foam pit and more! (CREDIT: SpeKTrum)
Our bespoke in-house manufacture enables you to have your own "look and feel" for your facility with colours of padding and beds to suit your scheme - for example we offer 28 colours of PVC for padding, and 6 colours of UltraMesh for beds.
Please call us on +44 (0)1484 542 051 and ask for one of our technical sales team who will be pleased to start work with you on your project.
In the meantime please refer to our Trampoline Park FAQs page on trampoline parks that will answer many of your questions, or please download our handy guide booklet - "Continental Sports - Trampoline Park System FAQs"
Items 1-12 of 53
Page
You're currently reading page

1
Planning a trampoline park? Continental's FAQs answer many questions. Download free of charge!

Request A Quote

The new freestanding Air-Pit from BAGJUMP - an easy to set up, movable, above ground landing "pit" for gymnastics landing activities

Replacement or "top-up" foam for dismount pits for gymnastics training or trampoline parks. Priced in "blocks" of 5.28m3 (660 cubes)

Pack of 100 cable ties used to secure padding to the steel framework in Continental Sports' trampoline parks

Catch some serious air with the "Flip Machine" - a brand new product from Continental and PE-Redskaber for gymnastics, Parkour and cheerleading. Ideal for Freestyle Gymnastics / Parkour / Tricking training!

Foam ramp with hi-grip, black tarmac-effect PVC cover for use in Freestyle gymnastics and Parkour

PitZone mat. Inflatable mat to provide firmer landings in a foam filled dismount pit. Also perfect when used in Freestyle and Parkour as a "tricking floor"

Freestyle Gymnastics safety ("crash") mats with Urban look, hi-grip textured PVC covers. Absorbent foam body for landing situations

Freestyle Gymnastics foam blocks with Urban look, hi-grip tarmac-effect textured PVC covers. Cushioned foam body with a firmer foam top and sides for standing on, landing on and vaulting over
Items 1-12 of 53
Page
You're currently reading page

1