Portable basketball goals
Portable goals - from basic primary school goals, through institutional quality goals right the way up to FIBA approved backstops with glass backboards suitable for the highest level of competition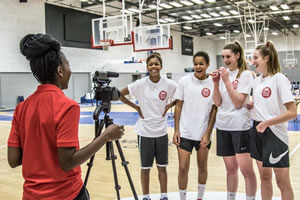 Continental manufactures basketball goals in an endless variety of options. We have been installing basketball equipment throughout the UK for 50 years and have worked with all roof structures, wall structures, standards of intended use, layouts and can always provide you with advise to suit your needs and your budget. We have provided basketball goals from all standards of venue from village halls, through primary and secondary schools to universities and high performance basketball centres.
We will not just sell you a "standard" product. We take the time to understand your needs, discuss the options, analyse the drawings of your hall and its roof and wall structure, and only then will we provide a firm quotation for the installation of the optimal equipment.
We therefore need architectural plans of your hall, and roof structure drawings before we can provide a quotation. We want to avoid surprises for you later on - we want to ensure what we quote for will work in your hall, will not conflict with other equipment in the hall, and can be installed safely without damaging your building or putting the users at a safety risk. This may take more time than other suppliers, but we consider it more important to provide a firm price for the equipment you want and that will work in your hall, rather than to provide a "budget" quotation with surprises later. We want you to benefit from our experience and advice.
For typical layouts, advice and technical information including sizes, projections, support steelwork requirements, electrical requirements and loadings etc. please refer to the specifiers section of our website.