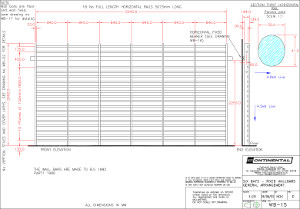 Continental's wall bars are a core piece of apparatus that we have been installing in gymnasia for some 50 years.
Manufactured from yellow pine, these bars are used in the following facilities:
gymnastics training facilities for attachment of stretching and strength training apparatus
traditional gymnasiums to compliment other wall hinged timber apparatus such as cantilever beams, hinged frames etc.
fitness suites for personal training - stretching, conditioning etc.
Manufactured in standard bay widths, we make wallbar units in arrangements of one to six bays.
As standard the uprights rest on the floor, but we also offer an alternative "hygeinic" arrangement which has the units entirely wall fixed to more easily allow for cleaning under the units, or in situations such as gymnastics training facilities where the floor under the unit is cushioned rather than hard and load bearing.