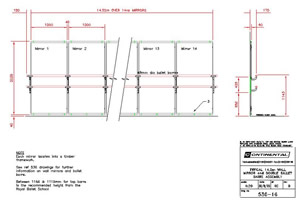 Continental Sports installs posture mirrors and ballet barre in gymnasia, dance studios, fitness suites, drama rooms - in fact any room where a mirrored wall is required.
We mount a softwood timber framework onto the wall which is packed out to ensure it is totally flat and does not have undulations caused by imperfections in the wall. This framework incorporates a cushioning system to provide a shock absorption system in case of impact with the mirrors.
The mirrors themselves are each 2m x 1m and are constructed from 6mm silvered float glass laminated to a bi-axially oriented 60 micron thick polypropylene safety film coated with clear acrylic adhesive to conform to BS EN 12600 Class 2B2 (previously BS6206 Class B).
The mirrors are held in place by the framework (but not fixed to it) to ensure a distortion-free image over a run of mirrors.
The top and bottom of the framework is finished with an attractive polished aluminium L-bracket.
It is essential that the wall construction is suitably strong to support the mirrors and any ballet barre to be installed. We have made available drawing 536-27 for download at the foot of the page, which shows our minimum strength requirements for different scenarios. The other drawings (536-09,15 and 16) show the general arrangement and overall lengths of mirrors with and without ballet barre).