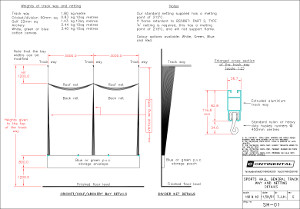 We manufacture and install netting and curtains for a wide range of purposes including:
cricket
archery
golf
sports hall division
gallery protection
blackout
Most of those curtains and nets are retractable and are installed using bespoke aluminium trackway with captured runners. Please refer to our standard detail drawing SH-01 for generic netting details.
The trackway is fitted buildings using a combination of wall and ceiling fixed brackets. For details of some typical brackets please refer to our standard detail drawing SH-22. Actual brackets are designed bespoke to your building.
If trackway needs to intersect other trackway at right angles it can do so using crossover units (similar to railway points that allow runners through in both perpendicular directions). However please bear in mind that if crossovers are necessary then all the trackway in your facility is likely to need to be at the same height. We have seen instances where designers have envisaged having cricket netting trackway at different heights to follow the roof profile but then specified a division net which results in having to bring the cricket trackway down to the same height as the division net so that all the trackway can intersect.
Curves can be used in the trackway to enable stored netting to be moved away from potential clashes with doors, viewing galleries and basketball goals.
Our trackway is supplied in 6m lengths and must be fixed every 4.5 to 5m. We therefore aim to fix to existing roof steelwork wherever possible (e.g. main beams, tie beams) and then put intermediate fixings to roof decking or purlins using clips with steel wires or unistrut onto which we mount drop brackets.