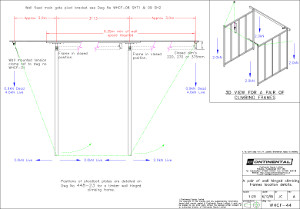 Wall hinged timber climbing frames, also known as "window ladder frames" are a traditional feature in secondary school gymansiums and activity rooms.
Typically supplied as a pair of frames, they can also be supplied as single frames or triples (or even more). The pair is useful as it enables the frames to be linked by linking and bridging apparatus (such as ladders, beams and poles) to enable a far wider range of physical education activities and experiences than the frames alone.
Most of the weight of the frame is taken directly to the floor so we do not require anything substantial in the wall to fix to, but there must be something solid. We cannot install these frames onto plasterboard walls or basic Metsec walls without additional pattressing, strengthening or secondary steelwork.
The frames are stabilised and held in position by an overhead tensioning cable which imposes a pull out force on the wall. Therefore in addition to strengthening the hing point of the frame, it may be that additional strengthening is necessary at two points at high level on the outermost side of the frame system, and also at low level where the tension clamp is located.
The frames normally all fold in one direction and require one tension clamp for a single, pair or triple frame system. If wall space is limited, we can arrange a pair of frames to fold on top of each other and in this instance one tension clamp is required per frame.
Various floor fixing drawings, frame design drawings and elevation drawings are available for download from the foot of this page.
We have made available the following dawings:
SH-14 & SH-15 - Frame pattern choices
SH-16 - Standard frame details
WHCF-09 - Elevation drawings (SH1 = one frame, SH2 = one pair of frames folding side by side, SH3 = triple arrangement off frames, SH4 = one pair of frames folding over each other)
WHCF-42, 43 & 44 - Loadings, fixings and general arrangement for a single frame (-42), a pair of frames folding over each other (-43) and a pair of frames folding side-by-side
448-22, 23 & 25 - Floor fixing locations for a single frame (-22), a pair of frames folding side-by-side (-23) and a pair of frames folding over each other. These are necessary to ensure any underfloor heating is omitted in the area where we must drill through the floor to install the shoot bolts and fixings that secure the frames