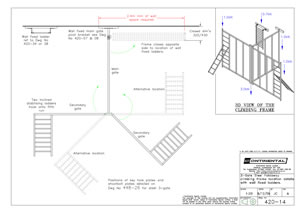 Our 3-gate Foldaway climbing frames are an industry standard for primary physical education.
The frames provide an exciting, challenging climbing frame with many variations and in conjunction with a wall fixed ladder and portable PE equipment provide a huge range of layouts of the equipment to present different challenges for children every time.
The 3-gate frames are available in bright coloured steel versions or lacquered timber.
No overhead tensioning cables are necessary as the units are stabilised using the supplied stabilising ladders.
The frames require us to drill into your floor so if you are planning a new installation and you are having underfloor heating, it is important to make provision for the frame before the heating is installed. You can find details of the provision necessary in the floor in our set of layout drawings here for the steel version and here for the timber version.
We have provided the following drawings for download at the foot of the page:
Drawing 420-14 - Steel 3-gate Foldaway climbing frame WITH wall fixed ladder general arrangement
Drawing 420-41 - Steel 3-gate Foldaway climbing frame WITHOUT wall fixed ladder general arrangement
Drawing 448-26 - Steel 3-gate Foldaway climbing frame floor fixings WITH wall fixed ladder (necessary for provision if underfloor heating will be installed)
Drawing 448-07 - Steel 3-gate Foldaway climbing frame floor fixings WITHOUT wall fixed ladder (necessary for provision if underfloor heating will be installed)
Drawing 420-08 - 3-gate Foldaway (steel or timber) wall fixing details
Drawing WHCF-45 - Timber 3-gate Foldaway climbing frame WITH wall fixed ladder general arrangement
Drawing WHCF-46 - Timber 3-gate Foldaway climbing frame WITHOUT wall fixed ladder general arrangement
Drawing 448-17 - Timber 3-gate Foldaway climbing frame WITHOUT wall fixed ladder floor fixings (necessary for provision if underfloor heating will be installed)
Drawing 448-29 - Timber 3-gate Foldaway climbing frame WITH wall fixed ladder floor fixings (necessary for provision if underfloor heating will be installed)
Drawing WHCF-09 SH5 - Timber 3-gate Foldaway elevation and wall fixing details