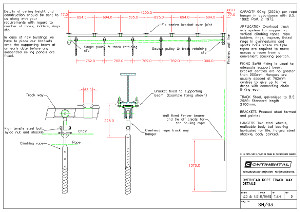 Overhead rope trackways provide a set of accessories which are most commonly plain climbing ropes but can also include rope ladders, knotted ropes, handrings and trapeze bars. The accessories are stored against the wall and are pulled out into the "in use" position using a rope hauling line. When in the stored position they are held in place with a strap which makes them very unobtrusive in your hall.
Typically they are installed directly to a main roof beam, but can be installed on secondary steelwork if a beam is not conveniently located.
If you are planning a suspended ceiling we can install drop brackets at a first fix that protrude through the ceiling onto which we can mount the rope trackway. We have available for download our standard detail drawing SH-03.