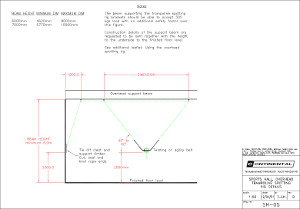 Trampoline spotting rigs are basically belay systems comprising rope, pulleys, swivels and a belt to enable a coach to prevent a trampolinist learning new skills from falling off the trampoline.
Spotting rigs are normally fixed to a main roof beam and secondary steelwork is normally only required if the rig is required in a specific location away from primary steelwork.
We have available for download two generic loading and fixing detail drawings:
SH-05 showing a rig under a horizontal roof
SH-13 showing a rig under a pitched roof.
The fixing points of a spotting rig must all be in a horizontal plane so drop brackets must be used to achieve this in a monopitch roof.
Please note that coordination with lights and netting trackways is important.
In order to operate a spotting rig you require a belt. This can be either an agility belt which permits forward and backward rotation (i.e. somersaults) or a twisting belt which in addition permits twisting as well as somersaults.