Court markings and court dimensions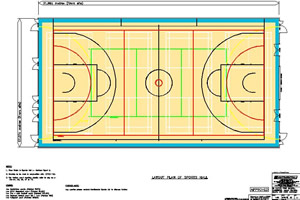 Continental would be delighted to assist in the design of the layout of your hall and the coordination of the line markings required for the various sports you intend to play. It is vital that the sports equipment is coordinated with the sports equipment and the dimensions of the sports equipment you purchase so we believe the lowest risk is to have the lines set out by the same people setting out the sports equipment. Please do not hesitate to contact us for any advice with regard to dimensions of courts, layouts, run-offs, typical compromises etc. We would also be pleased to prepare a coordination line marking drawing for your project. We charge £350 for the production of line marking drawings including as many iterations are necessary and we are pleased to offer a credit to that value if we are appointed to carry out the line marking work in your facility.
We can mark courts on any type of sports flooring – from vinyl / polymer type floors to solid timber floors including the necessary seal on top of the lines on timber floors.
We have set out below various governing body recommendations for different sports along with court marking drawings.
IMPORTANT NOTE: Sport England's current guidance on the standard size of a 4 court sports hall is now 34.5m x 20m x 7.5m. Previously the standard dimensions were 33m x 18m x 7.6m, although many halls are still being constructed to the old standards. Sport England has also standardised the terminology for the different levels of each sport into the following categories (from Recreational, Club, County, Regional, National, International):
Community
Club
Premier
International