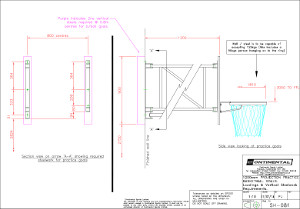 We manufacture a wide range of wall fixed basketball goals:
fixed projection
sideways hinged
upward folding
practice backboards
matchplay backboards
fixed height
height adjustable.
Depending on the projection, the type of goal and the construction of your walls you may or may not require secondary steelwork to support the goals. You are responsible for confirming the wall or steelwork we are fixing to is suitably strong to support the goals. We will provide loading and fixing details, but your structural engineer must confirm the structure of the building can accomodate the goals.
Please note that as we manufacture the goals on a bespoke basis we have the opportunity to fix to a range of steelwork and can fix to steel at the top of the goal and blockwork at the bottom, or even modify the bracketry to fix practice goals directly to vertical columns. If you have an unusual situation please contact us as we are likely to have seen it before.
The projection of the basketball goal is the distance from the wall to the front of the backboard. The most typical projections are:
450mm - Often used for practice goals as shooting stations. These goals can be "flat fixed" against the wall but that increases the risk that people hit the wall or run up the wall to grab the ring. The projection of 450mm reduces the chances of those occurences
1.2m - This is the distance from baseline of a basketball court to the backboard on a standard court. This projection when used on practice goals provides the opportunity to replicate "lay-ups" where the player starts the move behind the backboard and then moves in front of it to score
2.2m - This is often used in smaller halls where the run-off behind the court is 1m, so the 2.2m provides a standard 1.2m projection fram baseline to backboard plus the 1m run-off.
3.7m - This is the most common projection for matchplay goals in the UK. Most 4-badminton court sized sports halls in the UK are 33m long. With a standard 28m basketball court located in a 33m long hall, the necessary projection to position the backboard 1.2m into the court is 3.7m
4.0m - This projection suits a slightly over-sized 33.6m long hall with a centrally located standard court
4.5m - This projection suits a 34.6m long hall with a centrally located standard court
We would always recommend that steelwork is exposed for us to fix to. If you install recessed steelwork and then plan to install cladding such as timber wall panelling we would require a first fix to install brackets to protrude through your cladding and then we install the goals after you have clad around our brackets.
We would recommend that you provide us with sketches showing your proposed steelwork prior to its installation so we can sign off on its suitability.
The table below shows some generic drawings we have made available that can be downloaded from the foot of the page. We do not produce generic drawings for all scenarios, so if you require a drawing for a scenario that is not shown then please contact us and we will be pleased to create the drawing for you.
Matchplay (Backboard: 1080mm x 1050mm)
Practice (Backboard: 1200mm x 900mm)
Sideways hinged(4)


SH-08e - 1.2m projection(1)

SH-08l - 2.2m projection(1)

SH-08a - 3.7m projection(1)

SH-08d - 3.7m projection(2)

SH-08i - 3.7m projection(3)

SH-08k - 4.0m projection(1)

SH-08h - 4.5m projection(1)

SH-08m - 0.5m to 1.995m projection(1)

SH-08f - 1.2m projection(1)

SH-08g - 1.2m projection(2)

Upward folding
SH-23
Fixed
SH-08b - 450mm projection(1)
Height adjustable(5)

SH-08c - 450mm projection(1)

SH-08j - 1.2m projection(1)

NOTES:



Continental has no preference for horizontal or vertical secondary steelwork and the choice is normally determined by the builder or architect on ease of installation or aesthetic grounds. We most commonly fix to vertically aligned steelwork, but we provide standard drawings for vertical, horizontal, or stubs to fix to.

1) Assuming secondary support steelwork is oriented vertically

(2) Assuming secondary support steelwork is oriented horizontally

(3) Assuming secondary support steelwork stubs protruding from the wall

(4) We recommend any goal on projection of 1.2m and over is sideways hinged otherwise they provide a potential hazard / obstacle to other activities in the hall. We recommend that projections under 1.2m do not need the expense of a sideways hinge mechanism and could be fixed projection, but sideways hinge is possible down to as short a projection as 450mm

(5) Height adjustment is mainly used on practice goals, but is also available on matchplay goals. It provides junior ring height (2.8m) and senior ring height (3.05m) using a hydraulic ram system behind the backboard to provide those two heights.